Hit or Hype? Joli Med Spa Weighs In on this Skincare Solution
No pun intended, but let's face it: we are flooded daily with an over-abundance of the newest, greatest, and sometimes craziest skincare solutions, services, and products – all begging for our attention in our quest to achieve youthful, glowing skin. As each new cult favorite emerges with alarming frequency, we risk drowning in information overload. These miracle fixes pop up in our inbox, social media feed, and internet browser, dangling shiny solutions to health and beauty ailments with claims that are all but impossible to ignore.
If you're like Joli Med Spa, you need to cautiously vet these products and services in order to understand: what is hype, and what is the real deal, so that you are making your wisest health, wellness, and beauty decisions.
In this article we'll explore this relatively new technology, the HydraFacial: a system that claims to treat and nourish compromised skin of all types; improve, maintain, and restore skin health; and deliver instant as well as long-term results – all without pain or downtime.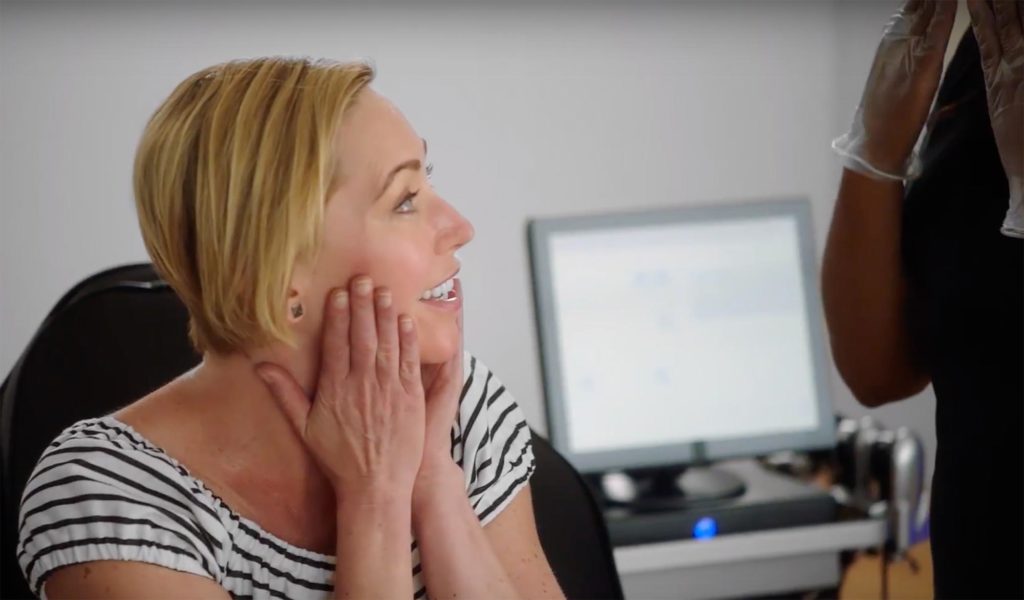 What is Skin Health, and What Factors Affect It?
First things first, we need to understand skin health: what it is, and how certain lifestyle practices yield healthy, glowing skin versus damaged skin or aging skin.
Healthy skin and a youthful appearance are more than just a reflection of what's shown on the surface of our skin. Just like body wellness and overall health, the health of our skin is determined by a combination of internal and external elements and factors, such as what you put into your body, how you live your life, and what products you use.
You've probably heard that our skin is one of the largest organs in the body; as such, it's also the most exposed. A great number of lifestyle and environmental factors – such as poor diet, lack of hydration, prolonged sun exposure, or inferior-quality skincare products – can lead to damaged skin. This type of skin may show dryness, scaly flakes or peeling, fine- to deep lines, brown spots or hyperpigmentation, premature sagging, sensitivity, or dull complexion. 
Conversely, beneficial lifestyle habits and practices such as adequate hydration, optimum nutrition, quality skin care products, and responsible sun exposure can drastically maintain and improve skin health quality.
90% of skin damage is caused by sun exposure (with aging UVA rays being equally strong on sunny and cloudy days), and the average person produces 1% less collagen in the skin each year after age 20.
There are a number of indicators of skin health, but the three primary ones are:
Hydration – This is the single most important factor in healthy skin. Dryness, scaly skin, flakes or peeling, even tight-feeling skin can be indicators of lack of hydration.
Tone and texture – This is the way the skin appears: dull and lackluster, versus bright and glowing.
Pores and congestion – This is an indicator of how clean and clear of obstructions your skin is. Visible pores filled with dirt and debris are a sign of pore congestion.
To help combat skin damage and restore skin health, there's a new, FDA-approved technology on the market: The HydraFacial, a multi-faceted treatment that cleanses, extracts, hydrates, and intensely nourishes your skin.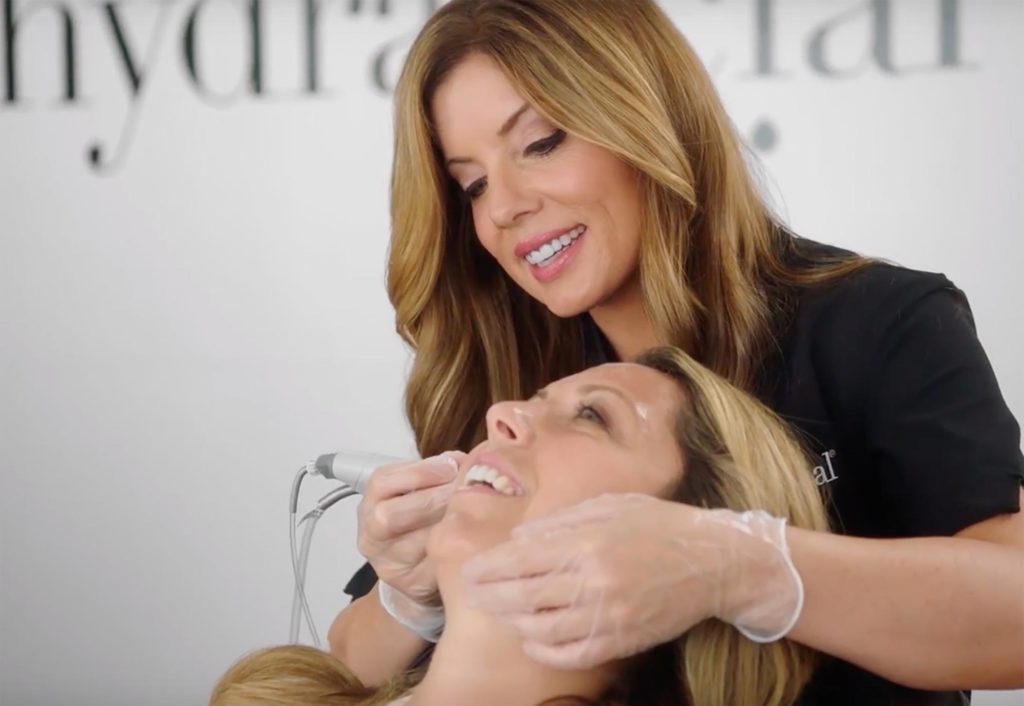 What Exactly Is the HydraFacial Treatment?
Based on the premise that hydration is the foundation of healthy and radiant skin, whereas irritation of the skin has been proven to increase signs of aging, the HydraFacial is a hydrating and gentle treatment that is completely non-irritating.
Using a wand-like device, the HydraFacial involves gently exfoliating and resurfacing the skin, removing debris from pores with painless suction, and infusing nourishing and quenching moisturizers along with beneficial super serums, giving the patient an immediate glow.
How Does the HydraFacial Work?
The HydraFacial uses a three-step system to cleanse, extract, hydrate, and infuse, revealing instantly glowing skin. The procedure is soothing and refreshing, takes only 30 minutes, and delivers immediate results after just one session, with continuously enhanced improvements over multiple treatments.
The HydraFacial involves a simple three-step process:
Step 1: CLEANSE + PEEL
Gentle exfoliation and relaxing resurfacing remove dead skin cells to uncover a new layer of skin.
Step 2: EXTRACT + HYDRATE
Painless suction removes debris and impurities from pores, while simultaneously infusing intense moisturizers to nourish and quench skin.
Step 3: FUSE + PROTECT
Antioxidants and peptides saturate the skin's surface for maximum glow.
If desired, patients can tailor the HydraFacial treatment with an added boost:
NASSIFMD Hydraglucan Booster Growth Factor: Helps to stimulate collagen
Murad Retinol Booster: For anti-aging and acne
Hydrafacial Rozatrol Booster: Calms redness due to rosacea
BrightAlive Boost: To minimize the appearance of discoloration, and brighten skin tone for an instantly gratifying glow.
Growth Factor Boost: To minimize the appearance of fine lines and wrinkles, further restoring skin health and vitality.
DermaBuilder Boost: A patented combination of peptides minimize signs of aging and recharge the skin.
Britenol Boost: To minimize the appearance of dark spots and sun spots for an even complexion.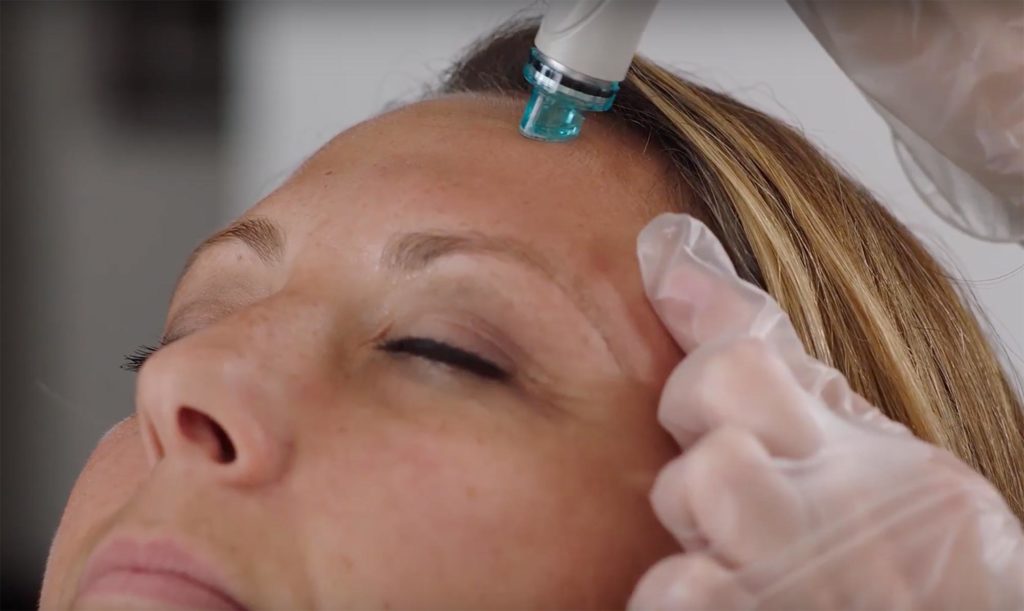 What Does the HydraFacial Do, and Who Would Benefit?
The HydraFacial addresses a number of skincare concerns:
Fine lines and wrinkles
Elasticity and firmness
Even tone and vibrancy
Skin texture
Brown spots and hyperpigmentation
Oily skin
Enlarged and congested pores
As for who would make for a good candidate, the company behind HydraFacial boasts that the system is suitable for everyone – including those with aging skin, compromised skin, acneic skin, and even sensitive skin, making it highly suitable to just about everyone, and a viable treatment for a wide range of skin health needs.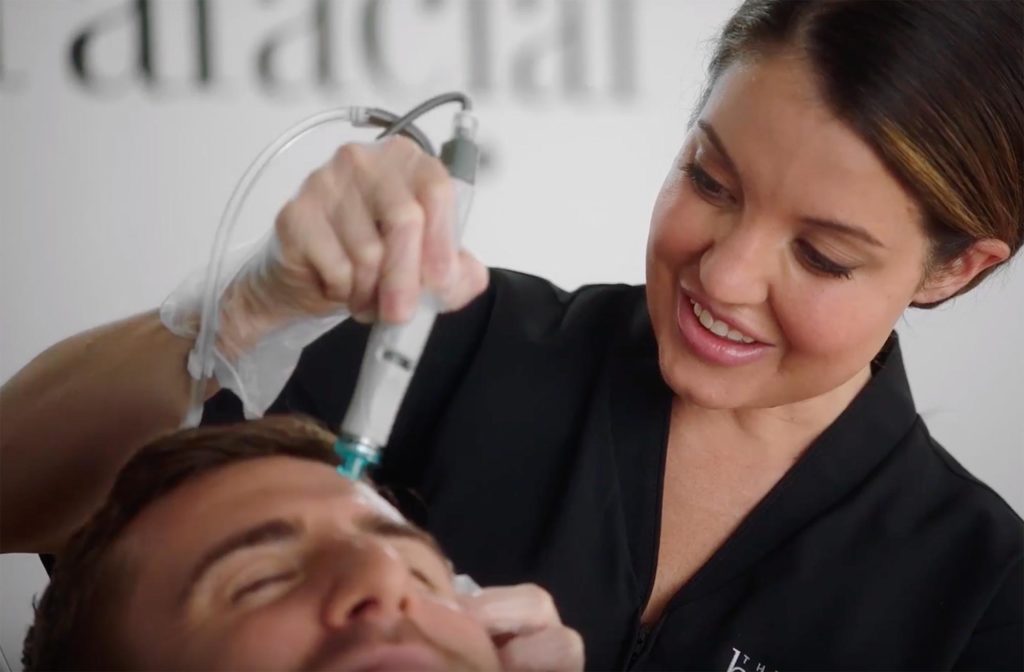 What To Expect as a Result of a HydraFacial
Here's the beauty of it: The team behind HydraFacial promises immediate as well as long-lasting visible and tactile results.
After one treatment, patients report seeing visible skin refinement, glowing and hydrated skin, and an even, radiant skin tone. Ongoing treatments are recommended for maintaining skin health and continued improvements in hydration, minimized brown spots and oily or congested skin, and a dramatic reduction in fine lines, and wrinkles.
The Pros of HydraFacial
It's quick – with just a 30-minute treatment time, it makes for the perfect monthly lunchtime facial
Zero downtime – you can reapply makeup immediately after treatment and return to your daily activities
It's painless – in fact, patients report that the process is pleasant, soothing and relaxing; no pain and all gain!
It's suitable for all skin types – even the most sensitive skin easily tolerates the HydraFacial treatment
It's customizable – HydraFacial bonus boosters allow for treatment of specific skin concerns
The Cons of HydraFacial
Joli Med Spa is hard-pressed to find a downside to the HydraFacial; so, in short, during our research of the Hydrafacial and potential drawbacks, we didn't determine any disadvantages.
Don't Take Our Word for It
We're not the only ones singing HydraFacial praises. As noted above, the HydraFacial has been making headlines, and enjoying accolades and endorsements, all over major media.
For example, New Jersey-based plastic surgeon Dr. Smita Ramanadham, in a July 2019 interview with Haute Beauty magazine, reported that the HydraFacial is her favorite skincare facial of the moment, adding, "It does everything in one. Cleanses, extracts, and infuses your skin with antioxidants or hyaluronic acids. You can cater the treatment to the specific needs of the patient. You can even treat and infuse the skin with retinol or other acids."
Likewise, Good Morning America featured the HydraFacial in a March 2019 segment on The Hottest New Facials to Give Your Skin a Boost. Not only did the segment feature patient video testimonials describing skin "looking plump and hydrated" and "never looked better," leading NYC dermatologist Dr. Whitney Bowe administered a live HydraFacial treatment on a patient, and enthused, "As far as facials go, this is one I can get behind."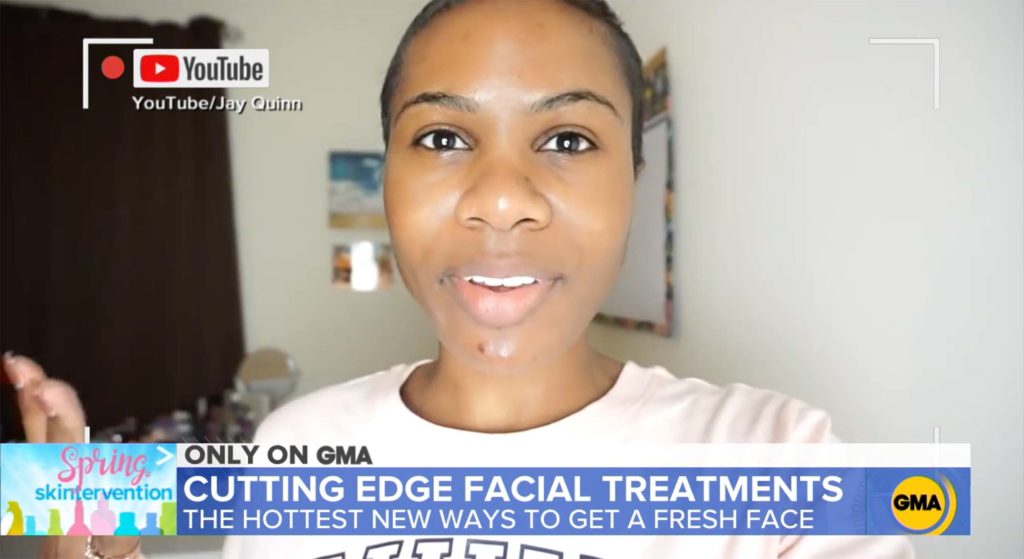 Why Joli Med Spa Endorses the HydraFacial
If this article sounds like a glowing HydraFacial endorsement – unapologetically, it is.
One of the founding principles of Joli Medical Spa is that we understand how important it is to look and feel our best. Therefore, at Joli Med Spa we make it our mission to assist each and every one of our patients to achieve individual health, wellness, and beauty goals. That means we only recommend, offer, and provide products and services that we have carefully researched and tested, and those we truly believe possess quality and value, and deliver promised results.
So we are proud to offer the HydraFacial as an effective and versatile skincare solution to our clients. Joli Med Spa can help you choose your specific treatment to address your specific skin care and skin health goals. Contact us for a consultation or appointment to explore the best products, services, and solutions for you.